In this article, we are going to show you an amazing collection of extremely unique premium-like free wordpress themes that you can use to create sites that are not just a weblog. You may have so many options to choose from to convert your simple blog to a highly customized purpose-built website. Using wordpress as a base platform, it's really easy to update, fast loading and professional looking sites that you ever think of.
You are welcome if you want to share more creative wordpress themes which our readers/viewers may like. Do you want to be the first one to know the latest happenings at  SmashingApps.com just subscribe to our rss feed and you can follow us on twitter as well.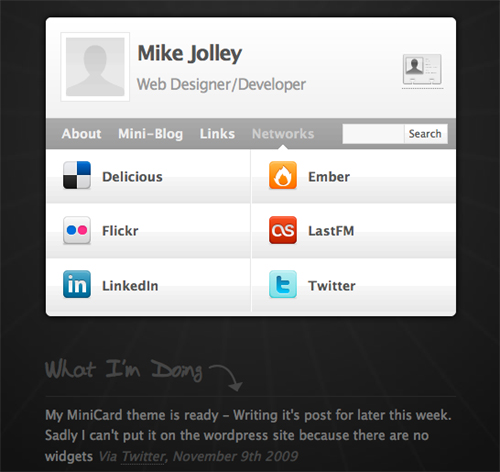 MiniCard is a social network/business card WordPress theme. This theme lets you add links to all the social networking sites you may be a member of, and post useful information such as bio's and contact details. It also has built in hCard support and (optionally) lets you offer a vCard for visitors to download your contact information.